KN95 Masks
customers are viewing this product
Ideal for daily use at home, work, travel, or trips to the supermarket and gym, our KN95 face masks are FDA registered, genuine, and made in accordance with industry standards. The 5-ply foldable mask has up to 95% filtration efficiency of non-oily suspended particles of 0.3-micron levels. Help prevent the spread of germs and protect yourself from airborne particles, pollen, and other allergens.
Innovative 5-layer active filtration barrier protects respiratory system.
Soft & flexible adjustable nose bridge for maximum comfort & a perfect fit.
Two strap ear-loop design stretches to fit all sizes providing a secure seal.
Lightweight in construction & fits securely over the face to prevent shifting during movement.
KN95 masks are intended for single use. They are not machine washable. The decision to extend the use of or reuse your KN95 mask is solely at your discretion.
Our KN95 masks are manufactured in China and FDA registered through rigorous lab testing in the USA.
All of our products are shipped from

USA

.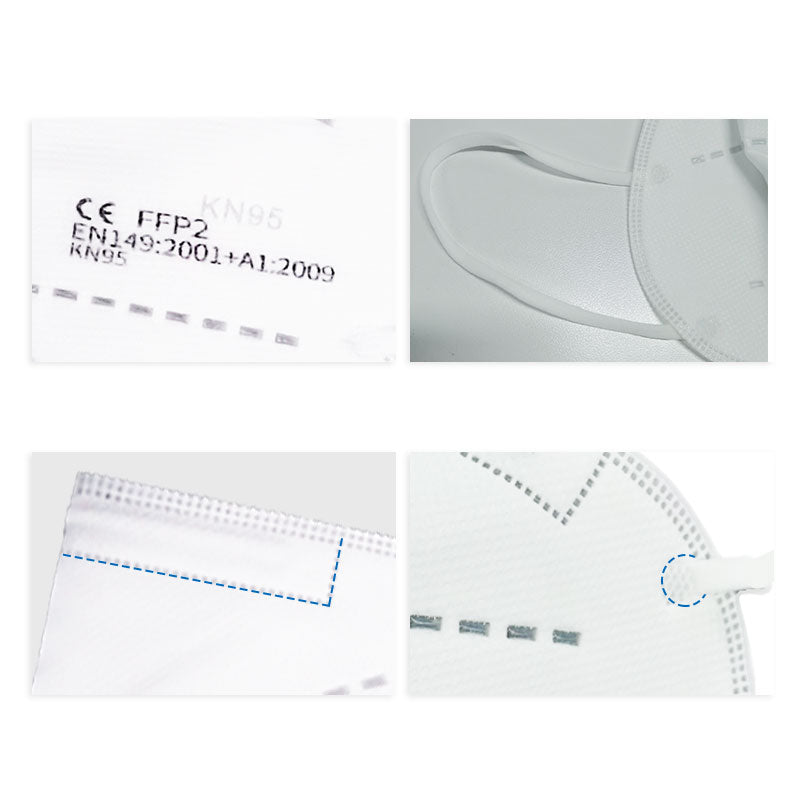 SOFT & FLEXIBLE ADJUSTABLE NOSE BRIDGE FOR MAXIMUM COMFORT WITH A PERFECT FIT
TWO STRAP EAR-LOOP DESIGN STRETCHES TO FIT ALL SIZES PROVIDING A SECURE SEAL
ULTRA-BREATHABLE FABRIC FOR ALL-DAY COMFORT & MAXIMUM PROTECTION
Every time you order from us, we donate one mask to a hospital in need.
For every order we receive, we donate one mask to charity.
FREQUENTLY ASKED QUESTIONS
Are KN95 masks washable?
KN-95 masks are intended for single use. They are not machine washable. The decision to extend the use of or reuse your KN-95 mask is solely at your discretion.
Are your KN95 masks FDA registered?
Our KN-95 manufacturer is FDA registered through rigorous lab testing in the USA and all of our products are shipped from our warehouse in Birmingham, Alabama.
How long will it take to get my order?
Most orders are shipped on the same business day. We offer DHL shipping at checkout with options for international shipping outside the USA. Please note that you may experience a delay in delivery due to COVID-19.
DISCLAIMER
Our masks are of the highest quality, but are for non-medical use. They are ideal for personal hygiene, at-home cleaning, beauty salons, food / hospitality services, etc. They are not intended for use in healthcare and not intended for use in the diagnosis of a disease or other conditions, or in the cure, mitigation, treatment, or prevention of disease, in man or other animals.
Special design for easy dispensing. One time use only. In storage avoid excessive heat (40°C, 104°F). Avoid exposure to excess ozone conditions. Not intended for use as a general chemical barrier. Storage Recommendations: Store at room temperature. Keep dry. Products should be shielded from direct sunlight.
SHIPPING POLICY
We have put a lot of focus on making sure the items get delivered to our customers as quickly as possible.
It usually takes about 15-25 business days for standard shipping, when the online tracking number comes out. 
Verification → Processing → Shipping → Delivery
RETURNS POLICY
At COLAPATRENDY, customer satisfaction is always our top priority.
Our dedicated quality control and quality assurance teams will inspect your items prior to shipping. Our product quality is guaranteed. However, you do need to carefully and accurately check your size before buying. Please kindly refer to the size charts on the product page.

If you are not satisfied with the items you received, we can easily arrange an exchange or a refund for you. We are here to help! Please feel free to contact our support team if you have any issue with your order!
30 Day Returns Warranty
Customers can contact us within 30 days of receiving the item. If you have received a defective or damaged item, the wrong size or the wrong product, please contact us immediately.